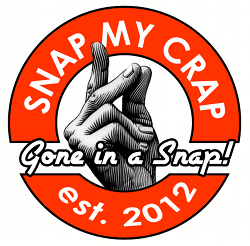 Junk Haulers! How would you like a service where - everyday - you will be emailed junk located in your area. All you have to do is bid on the cost to remove, pick up the items, and get paid.
Directions.
Get exact driving directions to the junk location, if you are the winning bidder.
Free.
There are no fees, or commissions to use this service. SnapMyCrap is currently free.
Payments.
Specify which payment types you accept: Visa, Mastercard, Cash, etc.
Email.
The moment an item is added within 50 kms of your area, you will be emailed with the link, and offer to bid.
Stars.
After removal, the customer will leave a customer review. The better reviews, the more you items you could win. Build your online reputation.
Share.
Share your Junk Hauler profile on Facebook and Twitter. Let the world know how awesome your company is.
---