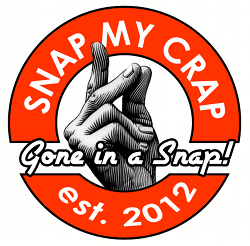 Gone in a Snap! SnapMyCrap.com is the easy, fun and affordable way to rid yourself of junk. Within minutes receive bids from local junk haulers. All you need is a camera - or a smart phone - and the will to take your space back.
Shoot.
Listing your items are as easy as shooting a photo and writing a short snippet. Easy peasy.
Green.
Find haulers that recycle or re-use goods. Even accept bids from freecyclers and charities. Give your goods a new home instead of a home at the dump.
Local.
Opt to choose haulers that are just down the street. Saves time and gasoline. Everyone Wins.
Check.
Browse hauler's past testimonials and reviews before you accept your junk removal bid. Get peace of mind.
Review.
After removal, let the world know how the hauler did. Leave a review for the world to see.
Save.
Receive multiple competitive bids, so you only pay an amount you want to pay - the most affordable junk removal ever.
How it Works (in a nutshell)...
Most junk removal companies will refuse to give you a bid over the phone or online. You don't know how much you need to pay until they arrive at your doorstep. SnapMyCrap.com takes away that unknown. Take a photo of your junk, write a summary of your stuff, and wait for multiple bids to flow in. It's that easy. Still unsure, click the how it works link.
---